Articles
2017 J Boat GM Regatta
By: Charlie Berry
Stowe Yacht Club hosted the 3rd annual "J Days" as part of the Green Mountain Regatta. With some skippers traveling long distances, we decided to hold racing over two days, which were followed by 2 days of EC12 racing. The J Boat turnout was lighter than expected, plus two scheduled sailors had to drop out at the last minute. With our small group of six big boats, we got down to racing. And, racing we did! On day 1, we held 18 races, and an additional 12 races on day 2. With two days of EC12 racing looming for these same sailors, we finished up the regatta with our 30th race by lunchtime Friday. The group then got to enjoy some Louis Vuitton Cup races on TV in the lounge during lunch – as if they needed more sailing.
Chuck Luscomb, with his Yankee, pulled off 12 bullets out of the 18 races on Saturday, for 25 points. This lead proved to be insurmountable. Brian Kerrigan, with a Ranger, finished the regatta in a solid 2nd place with 62 points. The closest scoring was between 3rd and 4th positions, with Jeff Gros beating out George Townsend by a fraction of a point. Jeff won the final race to seal his 3rd place overall – while using borrowed booms from George. A little saltwater in the wound for George.
Chuck Millican came back to the Green Mountain for the second year with his waterline-challenged Whirlwind. Chuck sailed a tactically strong series, but his smaller Whirlwind was just not a match for its bigger sisters. We just may see Chuck with a different boat next year.
A great tradition in the J class is that many of the boat owners invite other skippers to participate in the racing. The boat, not the skipper, is scored. And, the emphasis is on camaraderie and the Corinthian Spirit in this class. There were multiple examples of transmitters being passed around to other skippers to try their hand racing a J. The J class is now part of the tradition at the Green Mountain Regatta and we expect a stronger turnout next year.
Summary of the Green Mountain "J Days" Regatta:
Class: J Boat
Date: June 1 & 2, 2017
Location: Commodores Pond at the Inn, Stowe, VT
Host Club: Stowe Yacht Club (#159)
Entries: 7
Winds: Light to Moderate from SW
Races completed: 30
Scoring System: Single Fleet; Low-Point
Thanks to Race Committee: Charlie Berry, Bruce Nourjian, Louise Townsend, Rosemarie Fitzhugh, Robert De Gols
Green Mountain "J Days" Results:
Place Skipper J Model Points
1 Chuck Luscomb Yankee 33
2 Brian Kerrigan Ranger 70
3 Jeff Gros Shamrock 83.8
4 George Townsend Endeavor 84.2
5 Ron Schloemer Ranger 93
6 Chuck Millican Whirlwind 99.3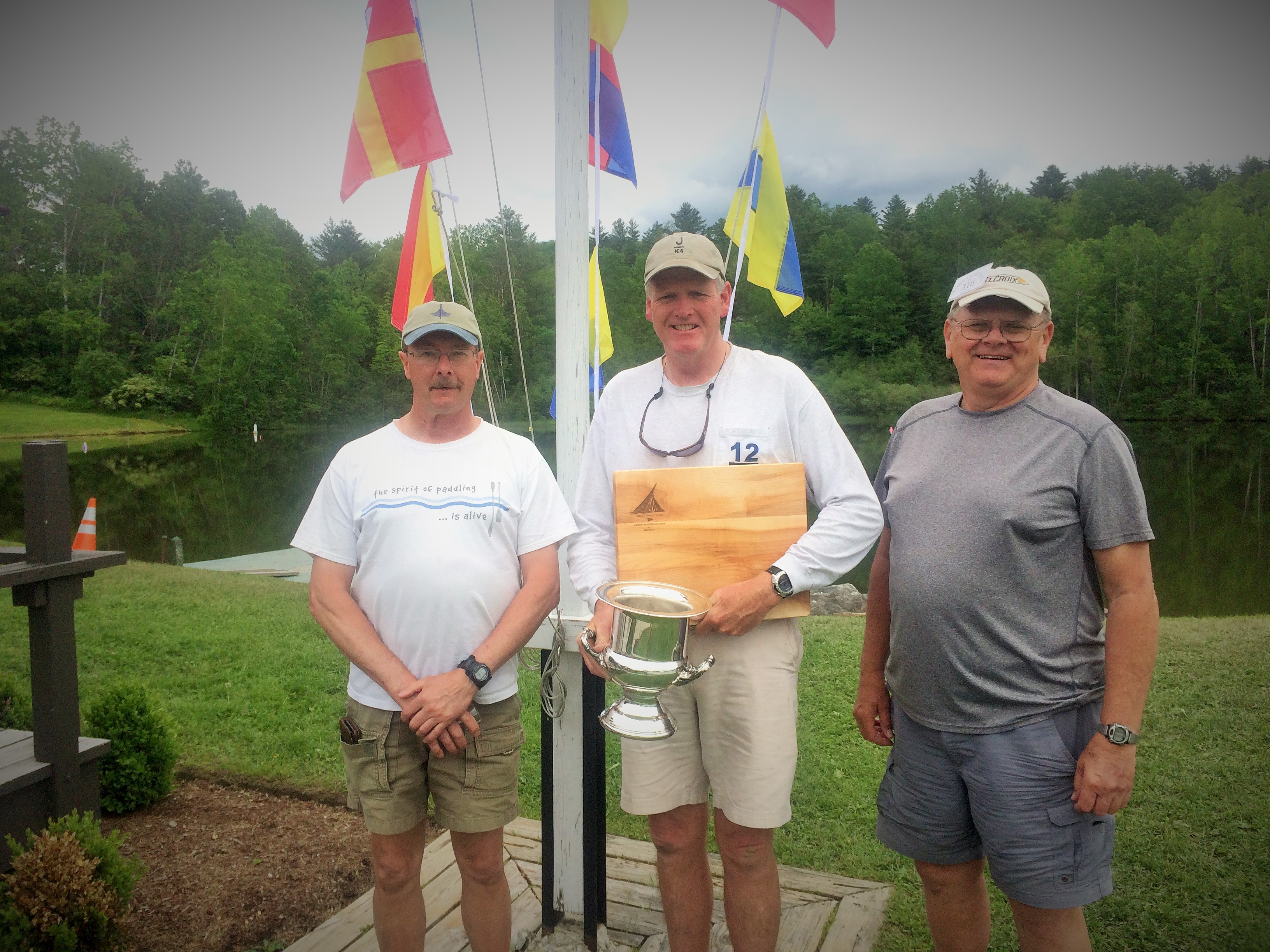 1st place, Chuck Luscomb, 2nd Place, Brian Karringan and 3rd Place, Jeff Gros.